New light, same sun
Poetry Compilation
Companion to ďJournal Of Innocence Stolen"
By Rose E. Grier
Early Influence 4/27/01
It was you.
You were the first one.
Of all the firsts
you were the
most different.
You
Pursued me.
I did not even know.
I was crazy about you.
You knew
just
what you were doing.
It was you
on the border
of trust
with others.
I did not know
Of all my beginnings
You were my first.
I did not even know
It would hurt
for
Thirty years
Uncle.
10/10/98
The Bitter Herb
All her life she sits
And waits in fear
Of the day
SHE
Will be held accountable
For her actions!!
Bye


Identification tag
3/27/01
I can see you in a crowd
It doesnít matter where or who you are.
I will always have a certain vision
that enables my energy to recognize
where your soul has been.
There is a quiet heroism.
It facilitates sovereignty
among us as kindred warriors.
We have wrestled the same rival.
Distinguished our triumph
over diversityís directive.
We stand united, tall and, by God, alive!
4/22/01

THOUGHTS

When
it is
that you
are seeking
perfection
in itsí purest form
the journey
begins
within

I am not <
I am not >
I am

When it is that I choose to accept the roots of my
Dysfunctions/functions there is flow.
I like flow.
Flow makes me feel good
It makes me know I am alive
In very real ways

I accept the fact that I am in control
Nestled in that, lies release.
It seems so easy conceptually
Hard work
True absolute incentive to love
Lit Keypad
2001
From the shadows you step
as the bottle blue light exposes you.
I know you were there.
You know it too.
Your scent encircles me.
My breath quickens and
you permeate my senses like liquid smoke.
There is a certain smile on your face
that I remember.
Not touching,
we dance in the alley.
You take the familiar lead
and rape me.
I cry as you type your perversions
in the dark.
OXYGEN AT THE SURFACE
6/14/01
I ďgetĒ what Iím responsible for
in my own life.
There will be people who will not and cannot
accept their own.
It can be open and free-flowing or
ever-heavy, ugly and full of strife.
Reliant on what you do and what
youíre being shown.
Life Own Strife Shown
Where do I go when I get bogged
Down with pain
I process to the smallest denominator
Within my control
I shoot to the surface
Where the oxygen is.
If These Walls Could Talk

By Rose E. Grier

A

Tribute

If these walls could talk out loud,
What things would they say?
Would this house stand so proud?
Who would it betray?

It may tell of summer heat.
A window drawn and draped.
It may tell about a child beat
Repeatedly bedraggled, torn and raped.

It may tell of a certain fall
Of excuses gone ignored so long
Family pictures on these walls
False, hollow visions. Where everything is wrong.

If you were a fly on me
What truths could you bear?
Of all the things that I see.
You do not want to hear!

Denial is a strong disease
Of which the truth cannot escape.
In this home (If you please)
A child lived life a fake.

Under this roof lived so much Cain
One cannot endure the memories truth.
These walls wracked with all the pain
Nothing but love can soothe.

These walls began with hope to cover
With care and shelter for
The tender gentle touch of a lover
And a legacy of happy lore.

And as the years went by so fast
Tortured images left on the walls.
Others came but didnít last
To enrich these lonely halls.

It was for some time a place of work
Where business seemed as normal
People happy just to thank
Working, professional and formal.

A bustling place with people all about it.
The house seemed so busy inside.
As only a business can befit,
But loneliness prevailed it cannot hide.

Not for long as you will see
For into the picture did enter
An amazing woman with a dream
Delights to turn the house into a center.

As the days went by
The walls were not too tended
No special touch or lullaby
Domestic days had ended.

The business got taken over soon
A new venture to embark.
Shooting for the stars and moon
All the angels for to hark.

A woman enters views the walls
Buys some paint, rugs and more.
Assesses up and down the hall.
It is dingy, but she sees more.

Her touch is real and sincere.
With thought and carefulness.
Something the house had not felt in years
To turn the sad place to itís best.

A plan is then set into motion
Ulterior motive clear
To follow true the notion
Love WILL be spoken here.

The dream coming true
A staff put in place
Ready for something new.
A truly safe space.

The home is for victims to come
To talk about sexual crimes
Of violence and shame for some
To help with messed up minds.

One day a woman calls to talk
To our counselor on the phone.
The situation unfolds so sad
The woman cannot be alone.

Counselor says to come right now
I am here for you today
The woman wonít and cannot allow
A meeting at that place.

Counselor says, "In me you can confide."
Woman cries out loud in tears
I have a secret I cannot hide
As you will see it harbors my biggest fear.

When I was a babe it was there that I lay
A toxic, living hell
To come there may be the only way
For me to get me well.

Though is hard for me to admit now
The best thing for me to do
Is to wipe the sweat off my brow
And for me to come see you.

So the circle is complete
The walls to pay you back
To give you love, my sweet
And fill you where you lack.

You have the power
To fix yourself within
These walls will no longer make you cower
For once they are your friends.

Caring hands contained inside
To welcome you with love and serve
Our arms are opened so very wide
Come full circle and get your just deserve.
Click on the links below for more information on child abuse!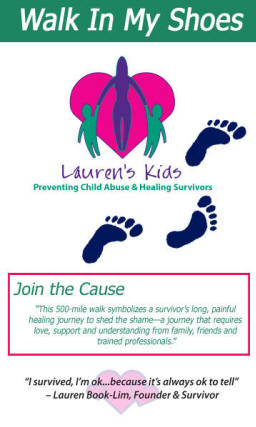 A WORD ABOUT REGISTERING JUVENILE SEX OFFENDERS